The Himalayan Race
China, India battle for control of Nepal
Sandeep Unnithan
India Today
Kathmandu, November 26, 2011 | UPDATED 16:42 IST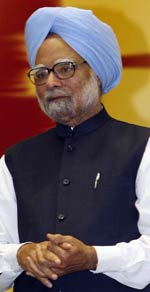 Prime Minister Manmohan SinghIn December, Chinese Prime Minister Wen Jiabao is to visit Nepal along with a high-powered ministerial delegation. Wen's three-day state visit is the first by a Chinese premier in over a decade. It marks the apogee of three years of rapid Chinese moves to dislodge the Himalayan buffer state from India's orbit. Senior Chinese party officials visiting Kathmandu this year have disbursed financial assistance for infrastructure and hydroelectric projects and military aid worth over $100 million. China is building a 256-km extension of the 1956 km Golmud-Lhasa railroad to the Nepal border by 2014. The $1.9 billion rail extension funded by the Chinese government will eventually reach the outskirts of Kathmandu. China-assisted projects in Nepal such as the Syafrubensi' Rasuwagadhi Road Project linking Tibet with Nepal are already under way. This year, China announced a $1.6 billion loan for Nepal's 750 mw West Seti hydropower project.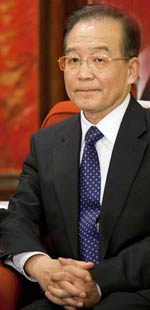 Wen JiabaoBut clearly, the most important is Beijing's project to develop Lumbini, Buddha's birthplace. It is a project that could potentially weaken the Dalai Lama's hold over Tibetan Buddhists and India's claim to the Buddhist heritage. Three of the four key sites relating to the Buddha's life-Sarnath, Kushinagar and Gaya-are in India. They form part of India's Look East policy of engaging the predominantly Buddhist countries around China's periphery. The mea routinely ferries visiting dignitaries from Vietnam, Myanmar, Japan, South Korea and Mongolia to Bodhgaya in special aircraft. In July, a Chinese NGO, the Asia-Pacific Exchange and Cooperation Foundation (APECF) , announced a $3 billion (Rs 15,000 crore) project to develop the Buddha's birthplace, 250 km south-west of Kathmandu. Nepal's gdp is $15 billion (Rs 75,000 crore). APECF announced the signing of the Lumbini project with the Chinese chapter of the United Nations Industrial Development Organisation (UNIDO) without even consulting Nepalese authorities.
Buddha's birthplace is already home to an eight sq km Lumbini Development Zone designed by Japanese architect Kenzo Tange in 1978 and funded by the Japanese government. The zone is centred around the exact spot Queen Mayadevi is believed to have given birth to Prince Siddhartha in 563 BC. "The Greater Lumbini Project will complete Tange's master plan and will have six-lane expressways connecting the birthplaces of Prince Siddhartha's parents," says Gopal Kiraty, Nepal's culture minister. A new Lumbini airport will fly visitors to the circuit and the entire project will take around three years to complete. "We want the project to create an economic boom in Nepal," Kiraty adds.
Nepal is on course to becoming another glittering jewel in China's "string of pearls" strategy designed to encircle India. The politically fragile nation-it has had four prime ministers in three years-is now a battleground for influence between India and China. "If China succeeds in bringing Nepal into its orbit, it will have crossed the Himalayas and established its influence up to the foothills bordering India," warns Jayadeva Ranade, former additional secretary, raw.
Indian security agencies feel the project, just seven km from the Uttar Pradesh border, could be a godsend for China. "Lumbini sits astride the neck of India on an 1,800-km porous border with Nepal and could become a launch pad for Chinese subversive activities," says an intelligence official.
Indian analysts say APECF's composition hints strongly at Chinese Communist Party and People's Liberation Army (PLA) links. The foundation's Executive Vice-President Xiao Wunan is a senior party leader.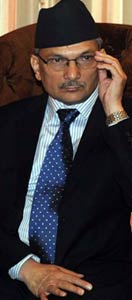 Baburam BhattaraiA senior Indian official attributes "complex motives" to the project. "There is a temptation for the Maoist leadership to bring China into Lumbini to counter India. But the project must not become a backdoor entry for a third party (China)," he says. India's concerns were conveyed to Kathmandu during Prime Minister Baburam Bhattarai's October visit to New Delhi. Indian authorities are keen that the project be open to international participation.
Nepalese authorities recently announced the APECF MoU had been scrapped, a move calculated at addressing India's concerns. On November 9, Prachanda met un Secretary- General Ban Ki-moon and convinced him to head the Lumbini project. However, APEC is still not entirely out of the project. Kiraty, a Prachanda acolyte, took the somewhat unusual step of inviting the Chinese NGO to register itself in Nepal. Senior APECFofficials have since been shuttling between Kathmandu and Beijing.
Why is an atheist communist state pushing a development project at the birthplace of the founder of the world's third largest religion? "Beijing, which for the first time in 2006 officially described Buddhism as a peaceful 'ancient Chinese religion' and has held two World Buddhist Forums, apparently continues to seek legitimacy from the Buddhists," says Ranade.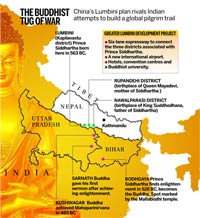 In an attempt to prevent China from monopolising the project, India has suggested that Lumbini be included in the Buddhist tourist circuit along with Sarnath, Kapilavastu and Gaya. Kiraty says Nepal is yet to decide on the proposal. India is one of the largest foreign aid donors to Nepal, providing an estimated Rs 160 crore annually. It is, however, only a fraction of an over Rs 6,000 crore that India has spent on Afghanistan since 2001. Earlier this year, India's Ministry of External Affairs pledged Rs 3,000 crore to build four integrated checkposts, a 1,500-km road network through 33 districts of Nepal and a 184-km broad-gauge rail link between the two countries.
China has been matching Indian aid with cheque-book diplomacy. Since 2009, it has doubled the quantum of aid, providing Nepal $22 million annually (Rs 110 crore). In March this year, General Chen Bingde, visiting chief of the pla announced a $20 million (Rs 100 crore) aid package for the Nepalese army.
China's interest in the Himalayan country is geo-strategic. It is suspicious of Nepal's population of 20,000 Tibetan refugees. "China sees the Dalai Lama and not the US or India as its main enemy," says an Indian official. Nepal provides the largest escape route for Tibetan refugees into India. China's new ambassador to Kathmandu, Yang Houlan, has directly pushed Chinese projects with the government. "We have information that our oldest and nearest friend Nepal is turning into a playground for anti-China activities," the envoy warned before Bhattarai's October 21 Delhi visit. The self-immolations by monks have seen the Chinese intensify its crack down (see box).
"There has been a political power vacuum in Nepal since the monarchys abolition in 2008. China is trying to fill up that gap and neutralise Indian influence," says Yubaraj Ghimire, journalist and political analyst.
"We have been negligent about the neighbourhood," says former raw chief Vikram Sood. "So it is only natural that someone else is willing to walk in," he adds. Prime Minister Manmohan Singh is likely to visit Kathmandu early in 2012. It will be the first state visit by an Indian Prime Minister since 1996. Clearly, China's trans-Himalayan gambit has roused Delhi from its stupor.