Pro-Life Model: The Tenacity of Pierre Duhem
By Don DeMarco, Ph.D.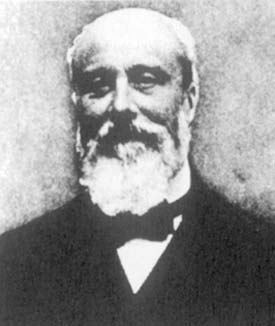 Pierre Maurice Marie Duhem (1861-1916) is that rare, if not to say unique, scientist whose contributions to the philosophy of science, the historiography of science, and science itself–in thermodynamics, hydrodynamics, elasticity, and physical chemistry–were all of profound importance on a fully professional level. His contributions are legendary and fully justify the honor he is currently being given throughout the world this year on the 100th anniversary of his death. Duhem Centenaries are planned or have already taken place in the United States, Paris, Brazil, Tunisia, and Austria.

Turning the clock back by five decades, we read the following encomium from a fellow scientist, Donald G. Miller on the pages of Physics Today (December 1966): "This year marks the 50th anniversary of the death of Pierre Duhem, one of France's greatest intellects. . . In his 32 years of scientific activity, he published without collaborators more than 350 papers and 21 books for which a nearly complete bibliography exists. . . Duhem was absolutely honest and had firmly held opinions. He prided himself on his independence, as evidenced by the publication of his refused thesis. He always protested vigorously things he believed unjust. He never feared a polemic, was a savage critic, and chose his adversaries without regard to rank or reputation."

Duhem was a staunch Catholic, was interested in the Catholic students' association, and was active in a widow's' and orphans' aid society. He was a likeable man, possessing courtesy and charm. He had many close friends and his students had the highest regard for him. Naturally, as a Catholic, he deplored the anticlerical nature of the Third Republic. He produced massive groundbreaking work in medieval science and ably defended the continuity between medieval and early modern science. He offers a fascinating example of a brilliant scientist who fearlessly adhered to his views, while entangled in historical and personal circumstances that prevented his career from being all that it could have been and partially suppressed his contribution to science and history.

As with any great man, Duhem was not without his detractors. His enemies, which is to say, those who envied his talents, called him "stubborn". Here we come to an important and most interesting distinction, one between stubbornness and tenacity. Stubbornness is a firm act of the will animated by the desire to be right. As such, it is a vice. Tenacity, on the other hand, is a firm act of the will that is guided by objective truths. In this regard, tenacity is a virtue. An examination of Duhem's life, his faith, and his work strongly suggests that he was a man of tenacity in the esteemed tradition of St. Paul, Louis Pateur, and St. Thomas Aquinas.

St. Paul, in Thessalonians 2:15, advises us to "stand firm and hold fast to the teachings we passed on to you, whether by word of mouth or by letter." In so saying, he is not inviting his "brothers and sisters" to be stubborn, but to be faithful in holding on to what is true and right. He is advocating tenacity. "Let me tell you the secret that has led me to my goal," wrote Louis Pasteur. "My strength lies solely in my tenacity." By contrast, Sophocles tells us in Antigone that "stubbornness and stupidity are twins."

Étienne Gilson, in his book, Reason and Revelation in the Middle Ages, credits St. Thomas Aquinas with possessing two virtues to a high degree that are seldom found in the same person: "a perfect intellectual modesty and an almost reckless audacity." Duhem learned much from the Angelic Doctor and may very well have absorbed these two virtues from him. As Gilson elaborates, "Intellectual modesty" means accepting things just as they are, conforming one's mind to external reality. Duhem, it must be admitted, possessed this virtue.

"Intellectual audacity," as Gilson explains, is the insistence on accepting a thing as it is without compromise, and doing it fearlessly. What the distinguished philosopher of history is saying about audacity appears to be synonymous with "tenacity," or holding firm, despite temptations to the contrary, to what one knows is right. "He is no wise man," remarked Samuel Johnson, "who will quit a certainty for an uncertainty."

Duhem could not have accomplished as much as he did, if he had cow-towed to the political correctness of his time. Despite the unfavorable, anticlerical environment in which he worked, he made original discoveries that clearly established a continuity, now fully acknowledged, between Medieval scientists and the science of the Modern World. "In other words," as Hebert Butterfield writes in The Origins of Modern Science, "the modern world is in a certain sense a continuation of the medieval one—it is not to be regarded as merely a reaction against it."

Commenting further on Duhem's establishment of this continuity, Templeton prize-winner Stanley Jaki, who holds doctorates in both physics as well as in theology, states that "What Duhem unearthed among other things from long-buried manuscripts was that supernatural revelation played a crucial liberating role in putting scientific speculation on the right track . . . It is in this terrifying prospect for sexual humanism, for which science is [presumed] the redeemer of mankind, that lies the explanation of that grim and secretive censorship which has worked against Duhem."

Duhem's mother feared that the study of science would lure her son away from the Catholic faith. Ironically, throughout his life, Duhem was persistently accused of separating science from faith. The 100th anniversary of Duhem's passing allows us to rejoice in the more realistic, harmonious, and balanced view that science and faith are perfectly compatible with each other. It also allows us to honor the tenacity of Pierre Maurice Marie Duhem, for without that extraordinary virtue, no such celebrations would be taking place. Honoring a person one hundred years after his death is itself an expression of tenacity. We honor those whose memory we hold firm, as we honor the Word of God. "By this gospel you are saved," St. Paul tells us in I Corinthians 15:2, "if you hold to the word I preached to you. Otherwise, you have believed in vain."





Dr. Donald DeMarco is a Senior Fellow of Human Life International. He is professor emeritus at St. Jerome's University in Waterloo, Ontario, an adjunct professor at Holy Apostles College in Cromwell, CT, and a regular columnist for St. Austin Review. His latest works, How to Remain Sane in a World That is Going Mad and Poetry That Enters the Mind and Warms the Heart are available through Amazon.com.